Windows serve many important roles in retail stores, office buildings, and other commercial facilities.
For instance, large storefront windows let abundant natural light in, provide views of the outdoors, and allow window shopping.
But standard commercial windows are also extremely easy to break, leaving properties vulnerable to forced entry, burglary, rioting and looting, vandals shooting out windows, and even violent attacks from armed assailants.
To improve your commercial building's forced entry and active threat mitigation, one option you have is to convert your standard windows.
Is It Really Possible To Convert Standard Windows Into Bullet-Resistant Windows?
When you think about bullet-resistant glazing (glass), you might imagine the thick, heavy windows that are used for things like armored cars and military applications.
You might also wonder how you could possibly install these types of windows in your commercial property without significantly altering the window and door framing systems and other structural elements of your building.
It is possible to convert standard windows into bullet-resistant windows without removing or replacing the existing window framing.
This is possible using retrofittable framing adaptors that allow thicker polycarbonate security glazing and even ballistic glass clad polycarbonates (GCP) to be mounted into the existing framing.
Polycarbonate is a type of thermoplastic that is so impact resistant that it's considered virtually unbreakable, making it the best lightweight option for forced entry protection and defending against other types of blunt force and ballistic impacts.
Although not all polycarbonate security glazing is bullet resistant, even containment-grade polycarbonate (non-ballistic) can be riddled with bullets without significantly diminishing in strength or breaking apart. It remains a barrier to forced entry even during the most prolonged, determined attacks.
Just how "bulletproof" are bullet-resistant Riot Glass® windows?
Before we continue, we need to make an important distinction between the terms "bulletproof" and "bullet resistant."
Outside the security glazing industry, "bulletproof windows" is a term that gets thrown around quite a bit, but it's misleading to refer to anything as "bulletproof."
No matter how thick or strong a material is, it can eventually be penetrated by bullets, so there's no such thing as glazing that's truly 100% bulletproof.
This is why we always refer to glazing that can stop bullets as bullet resistant — it can stop one or more rounds from certain types of firearms, but it can potentially be penetrated by bullets from more powerful weapons or high-volume ballistic attacks.
Bullet-resistant windows should have a ballistic resistance rating that specifies what types of bullets it can stop from specific firearms.
For example, the UL 752 rating system is an industry standard that we use for our bullet-resistant polycarbonate and GCP glazing.
A UL 752 Level 1 rating is the lowest level of protection on this scale, indicating that a level 1 material can stop at least three 124-grain* rounds from a 9mm handgun.
*grain is a unit of measurement of mass, and in the troy weight, avoirdupois, and apothecaries' systems, equal to exactly 64.798 91 milligrams.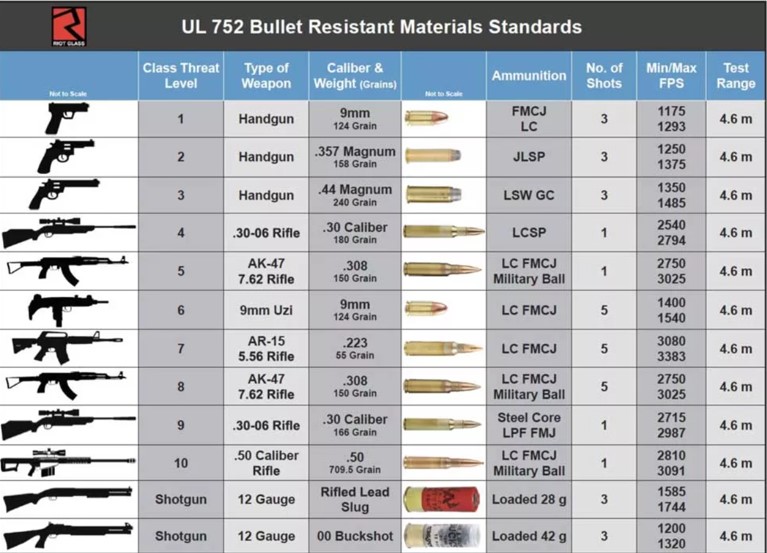 How converting standard windows into bullet-resistant windows using Riot Glass® works
Converting commercial windows into bullet-resistant windows can be done by retrofitting our specific blend of polycarbonate glazing shields into or onto the windows' existing framing systems.
Riot Glass® polycarbonate security glazing panels, or infills, are fitted into accompanying security framing. These units are then securely fixed to the existing window framing, creating a protective barrier over, behind, or in place of the existing glass.
Riot Glass has new Gen II framing with 3 options: over glaze (outside the existing glass), back glaze (inside the existing glass), or conversion framing which is placed over the existing "pocket" after the original glass is removed. Framing adaptors called a conversion framing extrusion allow for upgraded panels to be fitted into buildings' original window and door framing.
Bullet-resistant Riot Glass® polycarbonate protects your existing windows against:
Forced entry
Burglary
Smash-and-grab theft
Rioting and looting
Vandalism
Ballistic attacks (active threats)
Storm damage
Blast damage
When this retrofit system is impacted by a heavy object or a ballistic round, the thermoplastic structure effectively disperses the force of the impact towards the edges of the glazing, helping it to remain intact and continue protecting the building.
Benefits of converting standard windows into bullet-resistant windows
Bullet-resistant Riot Glass® provides the best access denial you can get — it simply keeps the bad guys out.
In terms of burglary and smash-and-grab theft, forced entry attempts using common burglary tools, like sledgehammers, bats, and crowbars, bounce right off of polycarbonate security glazing.
During active threat scenarios, bullet-resistant polycarbonate glazing is effective at stopping bullets during the initial moments of an attack and thwarting forced entry attempts by the assailant.
This protects the lives of people inside your property and gives them time to react to an active threat by running, hiding, and barricading themselves inside until the authorities arrive and neutralize the threat.
Besides the forced entry and active threat protection that ballistic-grade Riot Glass® provides, there are a range of other benefits it offers.
Benefits of retrofitting bullet-resistant polycarbonate Riot Glass® windows:
Looks and feels like standard commercial window glass
Does not block natural light or reduce visibility
Maintains the curb appeal of businesses
Acts as an alternative to plywood board ups
Are very cost-effective (existing framing can remain in place)
Provides UV protection
Can make your windows more energy efficient
Are resistant to marring
Can be easily (and affordably) replaced if they do get damaged
Convert Your Standard Windows into Bullet-Resistant Windows with Riot Glass
At Riot Glass, LLC, we manufacture, supply, and install a full range of security glazing products, from safety and security access denial secondary glazing systems to ballistic-grade polycarbonate or GCP glazing shields.
If you're interested in hardening your commercial property's security profile against forced entry, active assailants, and a full range of other security threats, we highly recommend using our ArmorPlast® line of ballistic-grade polycarbonate infills and forced entry-resistant security framing.
<iframe width="560″ height="315″ src="https://www.youtube.com/embed/7zQaLHMfYo8″ title="YouTube video player" frameborder="0″ allow="accelerometer; autoplay; clipboard-write; encrypted-media; gyroscope; picture-in-picture; web-share" allowfullscreen></iframe>
If you're not sure exactly what level of protection is right for your needs, we can help you get started with a professional threat assessment.
A threat assessment will provide you with actionable recommendations about what type of security glazing will be most effective and where to put it.
After that, our professional team of glazing experts will work with you to design, build, and install the right security glazing for your goals and budget.
We can even work with your local glass contractor anywhere in the country to complete your bullet-resistant window retrofit project.
Contact us today for a free consultation.