Entry doors serve functional and aesthetic purposes, but they also play a key role in a building's security. Any commercial door should, at the very least, be strong enough to withstand storm damage and forced entry attempts.
Unfortunately, many standard-issue entryway doors are not up to the task of protecting your business during a strong windstorm or hurricane, let alone from a determined intruder looking to gain entry to your property.
Luckily, there are ways you can reinforce a door without the need to replace it completely. Keep reading to find out what some of the top recommendations from security experts are for reinforcing doors.
How To Reinforce a Door: Tips From Security Experts
Reinforcing Door Frames, Locks, and Hinges
When it comes to reinforcing any type of door from being dislodged by high-force impacts or tampering, there are a few different upgrades you can make:
Deadbolts
Smart locks
Security pins
Long screws
Metal security framing
One of the first things you should look at upgrading when you're reinforcing a door is it's locking mechanism.
If your door doesn't already have a deadbolt, installing one is a quick and easy way to make it more secure. Deadbolts go further into the door frame than basic locks, thus making the door harder to jimmy or kick open.
Another way to make your door lock harder to pick is to add security pins inside the locking mechanism.
Alternatively, consider replacing your door lock with a smart lock, i.e. a lock that can only be opened with an access code. Smart locks are the most secure locks — they can't be picked.
When you're reinforcing a door lock, you should also take a look at the screws that hold the lock's latch onto the door. In many doors, the screws are only 1 inch long. Replace them with 3-inch screws to strengthen the lock latch and make forced entry harder.
While you're at it, replace any screws holding the door hinges in place with longer screws as well. This can help prevent a would-be intruder from kicking the door off its hinges.
Finally, it doesn't matter how strong your entry door is if it has a weak framing system. This mainly applies to doors on older buildings that have wood frames, which are not very impact resistant.
You can reinforce a door frame by replacing it completely with impact-resistant metal security framing. This type of framing cannot be easily dislodged by impacts or forced entry attempts.
If replacing the whole frame is not in your budget, you can reinforce a wood door frame by screwing galvanized steel over it with long screws to make it more impact resistant.
How to Reinforce a Door if It Has Glass Panels
If a door has any glass components, it doesn't matter how strong its frames, locks, and hinges are. Standard door glass can be easily shattered, whether it's by flying storm debris or an intentional blow.
In order to secure your property, you must protect door glass by placing some type of physical barrier over it. There are several options you can choose from to do so, based on your specific security needs and aesthetic preferences:
Bars or grills
Security window film
Laminated security glass
Polycarbonate glazing shields
Installing metal bars and grills is one of the most traditional ways to reinforce commercial doors. Though they do a good job of protecting the glass, they aren't a very attractive option and will definitely detract from the curb appeal of a business.
Ideally, you want to reinforce door glass without significantly altering its appearance. One way to do so is to apply security window film right on top of the glass.
Security window film is a pliable Mylar coating that reinforces glass panels against impacts. It doesn't actually prevent the glass from breaking, but it can hold the broken shards in place.
This may keep a pane of glass in place during a storm or delay forced entry long enough to deter it or give the authorities time to arrive. If you're on a budget, security window film can provide a basic security upgrade to glass doors.
The next level up in glass protection is something called laminated security glass. Laminated security glass is available in a wide range of thicknesses and compositions that resist impacts to varying degrees.
As strong as it is, it's still possible for a determined intruder to break through laminated security glass, or for it to get damaged during a hurricane or another extreme weather event.
To reinforce door glass with the highest level of protection, you can't beat polycarbonate glazing shields, such as ArmorPlast™. These glazing shields provide a glass-like surface hardness and appearance, but have the virtually unbreakable strength of polycarbonate.
When you retrofit your glass entry door with polycarbonate glazing shields, you won't noticeably change the appearance of the glass. However, the upgrade will be very noticeable when something impacts the door and bounces right off.
Whether your main concern is storm damage protection or forced entry prevention, our top pick for commercial door reinforcement is ArmorPlast™ AP25.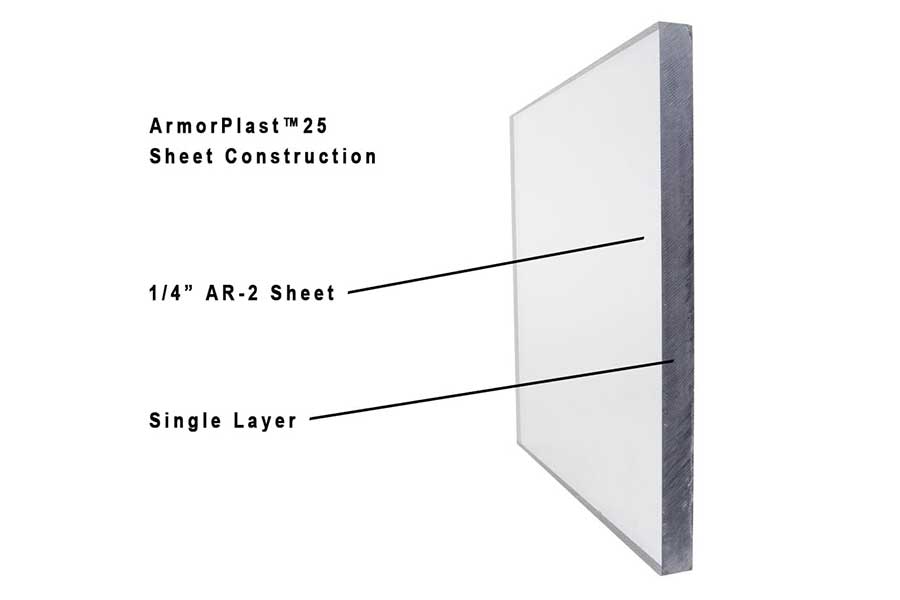 This is a containment-grade polycarbonate glazing shield that cannot be broken through or dislodged by common burglary tools or flying storm debris.
In addition to reinforcing doors, AP25 can be retrofitted into or onto all your existing window frames to protect your entire storefront. This makes it an ideal choice for retail store applications.
Final Thoughts on How To Reinforce a Door
Any building's most vulnerable points are its windows and doors, especially when the doors are made entirely of glass or contain glass components. Make sure to consider all the below upgrades when you're reinforcing a door:
Adding or replacing locks
Using longer screws in hardware
Installing security door framing
Creating physical barriers over door glass
Contact our knowledgeable team today to discuss all your glass security needs, or have your local glass contractor give us a call to talk about reinforcing glass doors and windows with ArmorPlast™ AP25.