Any property is only as strong as its weakest point, which is almost always an unprotected window or door.
When it comes to window security in Oakland, there are concrete steps you can take to reinforce vulnerable windows and doors to protect against a range of common security threats.
Riot Glass LLC has years of experience helping businesses across the country harden their properties' security using our top-of-the-line security glazing products. 
As industry leaders, we make a point of providing you with actionable information regarding window security best practices, as you'll find below.
What Are the Main Window Security Threats?
When we talk about window security, the threats we most frequently refer to are:
Forced entry
Burglary
Smash-and-grab theft
Rioting and looting
Vandalism
Forced entry
Forced entry refers to any attempt to gain access to a property through forcible means, typically unlawfully. More often than not, intruders force entry by breaking a window to open a door from the inside or climb through the window itself.
Forced entry is most commonly associated with different types of theft, but criminals also sometimes force entry to commit more serious, violent crimes. Active shooters often forcibly gain entry to facilities to cause harm to others, as an example.
Burglary
Burglary is a type of forced entry in which the intruders gain unlawful access to a property with the primary goal of theft.
Considering that there are approximately 2.5 million burglaries in the US every year, this is the number one threat that property owners typically want to protect against in terms of window security.
Smash-and-grab theft
Smash-and-grab theft is a form of retail theft in which one or more individuals smash a barrier, such as a glass storefront or display case, in order to grab merchandise and run off with it.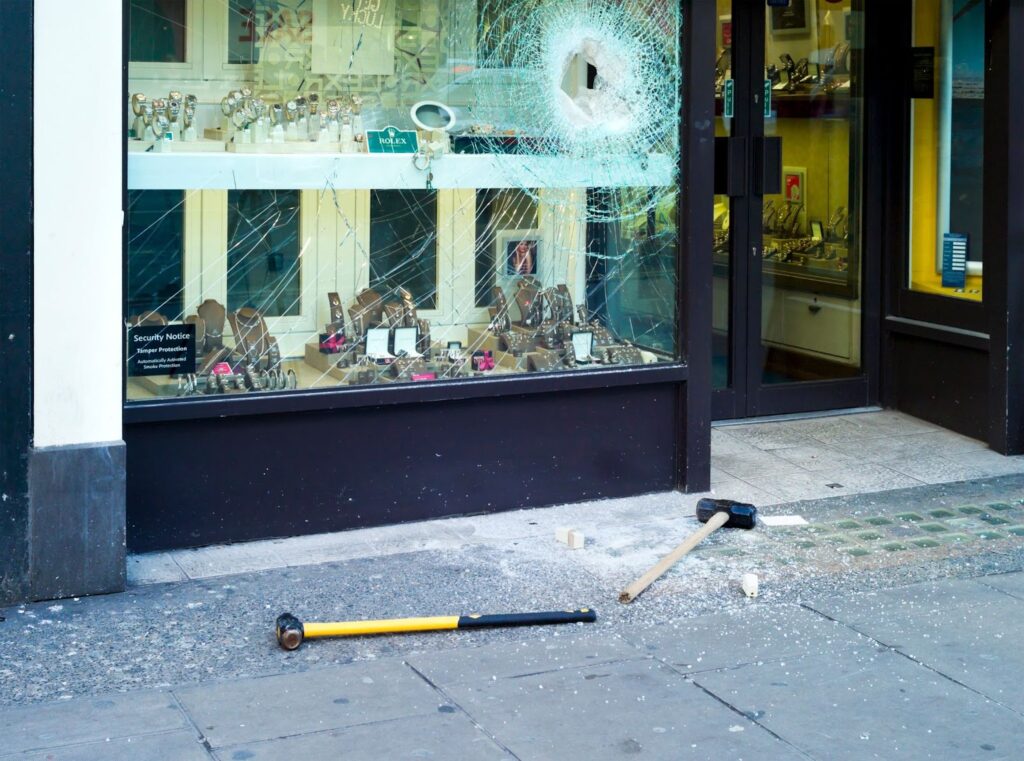 Unlike traditional break-and-enter burglaries, which criminals usually try to get away with quietly in the middle of the night, smash-and-grab thieves typically have little to no regard for making noise or setting off alarms.
In recent times, we've seen an uptick in a type of smash-and-grab theft known as "flash mobs." Flash mobs consist of large groups of coordinated criminals, sometimes dozens, who descend on unsuspecting retail businesses in organized attacks.
These thieves use heavy hand tools, such as hammers and pry bars, to smash windows and display cases, grab as much merchandise as they can, and flee to various getaway vehicles parked outside.
Rioting and looting
Rioting and looting can happen anywhere when civil unrest flares up. While most protests in the US remain peaceful, they do have the potential to turn violent, which is when angry mobs start to damage businesses and other properties. Criminals take advantage of this chaos to force entry and commit theft, known as looting.
The most common response to rioting and looting is for business owners to board up their doors and windows using plywood, but there's not always enough warning to do this in time. This is why all commercial building owners should find alternatives to boarding up windows for security.
Vandalism
Vandalism is any act that involves deliberate damage or destruction of private or public property. While not as serious of a threat as forced entry, burglary, and other types of theft, vandalism still has the potential to cause major financial loss, especially if you have to replace lots of broken windows.
Window Security the Riot Glass Way
At Riot Glass LLC, we're experts in protecting properties against all of the security threats mentioned above.
We design and manufacture two main types of retrofit security glazing: Riot Glass® RG series laminated security glass and ArmorPlast® AP series polycarbonate security glazing.
Both of these series of security glazing are similar in that they are designed to be retrofitted into or onto your existing door and window framing systems, typically without needing to remove or replace the existing glass.
Riot Glass® and ArmorPlast® both create a virtually invisible barrier over your existing glass to protect it from impacts and prevent it from breaking or allowing forced entry of any type.
While they have many of the same use cases, the key difference between ArmorPlast® and Riot Glass® is in their composition.
Riot Glass® consists of one or more layers of strengthened security glass with a thermoplastic interlayer laminated between each glass surface. ArmorPlast®, on the other hand, does not contain any glass at all. It is composed primarily of polycarbonate, a type of extremely robust thermoplastic.
ArmorPlast® and Riot Glass® are both capable of keeping the bad guys out of your property and can even achieve UL 752 ballistic resistance ratings, but the virtually unbreakable strength of polycarbonate makes ArmorPlast® a superior solution for most applications.
Let's look at AP25, our flagship ArmorPlast® product, as an example:
AP25 is a containment-grade glazing shield, meaning that it won't stop bullets. But, even when riddled with bullets, AP25 won't break apart or significantly diminish in strength — this is how robust polycarbonate is.
Because of these characteristics, we recommend AP25 as the go-to window security solution for businesses and commercial facilities of all types. It's ideal for protecting your property against forced entry, burglary, smash-and-grab theft, rioting and looting, vandalism, and more.
Types of facilities we protect with our security glazing solutions include:
High-end retail stores
Government buildings
Religious facilities
Schools
Hospitality businesses
Office buildings
Hospitals
Our retrofit security glazing is far superior to traditional window and door security solutions, such as bars, grilles, grates, shutters, and board ups, because it does not noticeably change the appearance of your property, hurt its curb appeal, block out natural light, or reduce visibility.
In other words, we fortify your property, without making it look fortified.
Window Security in Oakland: Tips from Local Law Enforcement
For general tips on protecting your business from crime, it's always a good idea to look at recommendations from local law enforcement and government organizations. 
Here are some recommendations from the Oakland Police Department (OPD) for burglary prevention.
Get a security survey done
Did you know that the OPD will send a representative to conduct a security survey of your property for you, free of charge? That's right, you can actually enlist the help of local law enforcement to help improve your window security.
A security survey, or what we in the security glass industry would call a threat assessment, is when a security expert (in this case sent by the OPD) physically inspects your business and identifies weak points that could be exploited by intruders.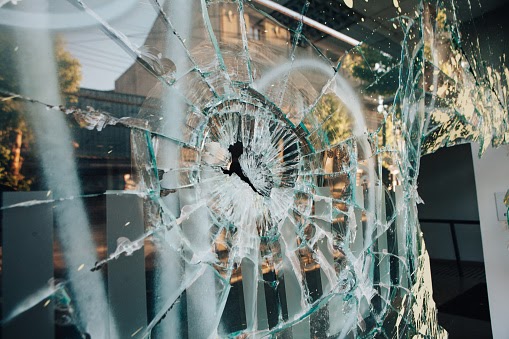 The security expert then makes specific recommendations on how you can harden your property's security to defend against forced entry, burglary, and other threats.
If you're interested in installing security glazing on your property, we can also help arrange an independent threat assessment for you to help decide on the best glazing solution for your security needs.
Reinforce any vulnerable areas of your business
This is something called "target hardening," which is the practice of reinforcing the most vulnerable potential entry points on your property. For us, this means retrofitting your glass doors and windows with some type of security glazing.
Sure, there are other methods of protecting vulnerable doors and windows, like window bars and grates, but these are not recommended for a number of reasons.
For starters, they're unsightly and hurt the curb appeal of your business. Then there's the fact that they block out natural light and reduce visibility. Lastly, bars and grates can be a safety hazard, as they tend to trap people inside during emergencies.
For the absolute best door and window protection, we always recommend containment-grade polycarbonate security glazing, such as ArmorPlast® AP25 — it looks and feels like regular window glass, but provides virtually unbreakable protection.
Contact us today for more information on how we can help you improve your window security in Oakland.