For protecting retail storefront glass and display cases, Riot Glass anti-theft glass is the most cost-effective solution.
However, there are lots of other anti-theft glazing solutions out there, and not all of them are nearly as effective as Riot Glass.
So, it's important to understand what sets Riot Glass apart and makes it the most defensive commercial glass protection solution out there.
What Is Anti-Theft Glass?
In broad terms, anti-theft glass is any type of impact-resistant security glazing that's specifically intended to protect property from theft, including burglary, smash-and-grab theft, and looting.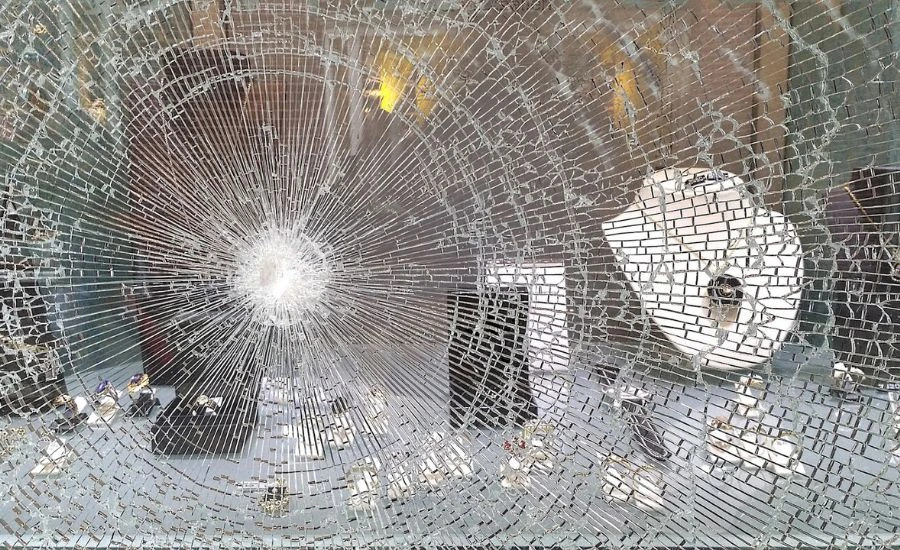 Anti-theft glazing can be used to reinforce everything from storefront windows and doors to display cases, with the ultimate goal of keeping criminals out.
Because of this, anti-theft glass is also commonly referred to as forced entry-resistant glass or glazing.
Anti-theft security glass protects businesses and commercial facilities against:
Forced entry
Burglary
Smash-and-grab theft
Rioting and looting
Vandalism
Other types of impacts
What about Riot Glass anti-theft glass?
Riot Glass anti-theft security glazing products use specific formulations of polycarbonates, acrylics, other plastics, and laminated security glass to achieve an unmatched level of impact resistance.
These unique compositions lead to security glazing that outperforms and outlasts other similar products on the market — a polycarbonate security glazing panel from Riot Glass, LLC is not the same as one from any other manufacturer.
Additionally, Riot Glass forced entry-resistant security glass is fully retrofittable, meaning it can be placed on top of or behind almost any existing glass surface using our proprietary retrofittable security framing adapters. It can also be used to replace existing glass, if desired.
Compared to other types of security glass out there, Riot Glass is far more practical and affordable, since many types of security glazing require changing the surrounding window framing and replacing the current glass completely.
Riot Glass anti-theft glazing solutions are ideal for:
High-end specialty retailers
Jewelry stores
Offices
Government buildings
Hospitality businesses
Schools
Other commercial facilities
Why You Should Be Using Riot Glass for Anti-Theft Glass Protection
From our containment-grade ArmorPlast® AP25 polycarbonate glazing panels to our ballistic-grade (bullet-resistant) Riot Glass RG Series glass-clad polycarbonate (GCP) glazing, any solution you choose will provide virtually unbreakable forced entry and theft protection.
Because of the recent spate of high-profile burglaries, smash-and-grab thefts, and rioting and looting in major cities across the country, it's more important than ever for businesses to find cost-effective ways to protect their property from forced entry and theft.
Riot Glass retrofit security glazing solutions are an attractive alternative to traditional anti-theft security solutions, which may simply not work for many types of commercial properties.
Alternative to unsightly anti-theft bars, grates, gates, and grilles
As you probably know, one of the most common ways to protect businesses, especially retail stores, against forced entry and burglary is to install window bars, grates, gates, and grilles.
These products vary in style and functionality, but they all have one thing in common: they're simply ugly.
Sure, unsightly bars and grates might work fine for essential businesses, like convenience stores, that don't rely on curb appeal or window shopping to make sales, but they certainly won't work for luxury retailers, such as jewelry stores.
High-end specialty retailers rely on displaying expensive merchandise in large storefront windows and display cases to attract customers, and they can't afford to cover these windows up with ugly metal contraptions.
However, commercial windows made from annealed glass and tempered glass are extremely vulnerable to forced entry and theft — all it takes is a couple of blows from a hammer, a bat, a crowbar, or another common burglary tool to make these windows fully shatter and crumble.
Experienced thieves can be in and out with bags full of merchandise in a matter of seconds, and are often long gone by the time the authorities arrive.
Sure, things like cameras and alarm systems are good deterrents, but they don't physically prevent forced entry and smash-and-grab theft.
Even armed security guards may not be enough to stop criminals, as we've seen in cases of massive, organized "flash robs," in which groups of dozens of thieves descend on retail stores, smash windows and display cases, and make off in all directions with valuable merchandise.
Because of these security threats and the disadvantages of traditional burglary prevention solutions, Riot Glass anti-theft glass is quickly being adopted by businesses across the country as a way to reinforce storefront windows and display cases.
Alternative to boarding up windows
When it comes to civil unrest and protesting, which can potentially turn into rioting and looting, many business owners and commercial building owners hastily board up their properties using plywood boards to mitigate security risks.
This is better than nothing, but plywood board ups are not efficient for a number of reasons.
For starters, determined looters can pry off plywood boards almost as easily as they can be put up, and then all they have to do is smash the window behind to gain access to your business.
Also, plywood board ups require you to buy, measure, cut, and store the plywood boards in advance.
Since civil unrest is usually unpredictable, many business owners might not have enough warning to do all this and board up their businesses in time.
Finally, board ups are even more unsightly than bars, grates, gates, and grilles, and make businesses look closed and uninviting. This has the potential to really hurt your bottom line, as customers are not likely to come into a boarded up business.
Benefits of using Riot Glass as an alternative to traditional forced entry prevention solutions:
Glazing panels are virtually invisible
Security framing has a low-profile, minimalistic design
Doesn't block out natural light or reduce visibility
Continues to allow window shopping
Doesn't make businesses look closed or fortified
Provides 24/7 protection against a full range of security threats
Are you ready to fortify your property against theft? Contact us today for a free consultation!