Commercial building owners and architects are constantly looking for ways to improve their buildings in terms of security and functionality, and are increasingly using different types of security glazing in order to do so.
By looking at the latest commercial security glass trends, we can see what some of the best ways to improve a commercial facility's performance are, especially when it comes to physically protecting people and property against different security threats.
Seven of the Top Trends in Commercial Security Glass Right Now:
Forced entry-resistant glass
Ballistic-grade security glazing
Blast-resistant windows and doors
Anti-graffiti coatings
Energy-efficient security glass
Sound mitigating windows
Storm damage impact windows
Forced entry-resistant glass
Virtually all types of commercial buildings are at risk for different types of forced entry, including burglary, smash-and-grab theft, rioting and looting, and active threat attacks.
When combined with other components of a comprehensive commercial security system, implementing forced entry-resistant security glazing is one of the best ways to mitigate these types of security threats.
There are a variety of different types of glazing that can prevent forced entry, such as laminated security glass and polycarbonate security glazing.
When it comes to access denial, which is an industry term for keeping the bad guys out, the top solution that our clients are implementing is containment-grade (non-ballistic) ArmorPlast® AP25 glazing.
This proprietary security glazing uses specific formulations of polycarbonates, acrylics, and other plastics that make it outperform and outlast other similar types of polycarbonate security glazing on the market.
Even the most prolonged, determined forced entry attempts bounce right off of ArmorPlast® AP25, making it ideal for retail burglary and smash-and-grab theft prevention, as well as active threat access denial for schools, religious facilities, and other high-risk properties.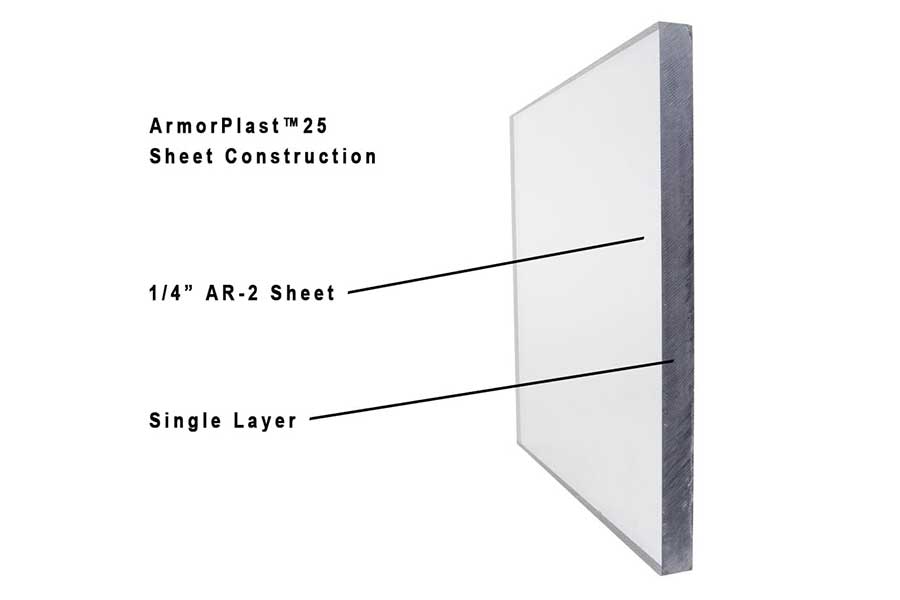 Ballistic-grade security glazing
Ballistic-grade, or bullet-resistant, security glazing is any type of glass or non-glass glazing that is capable of stopping one or more bullets from certain types of firearms.
This type of glazing provides forced entry protection and access denial, as well as additional protection against ballistic attacks.
Ballistic-grade glazing is very popular for high-security commercial applications, such as government buildings, banks and other financial institutions, and executive protection. It's also becoming increasingly popular for various high-risk businesses, including cannabis retailers.
When it comes to bullet-resistant glazing, our clients often choose Riot Glass® glass-clad polycarbonate (GCP) sheets, which are available with a variety of UL 752 ballistic resistance ratings.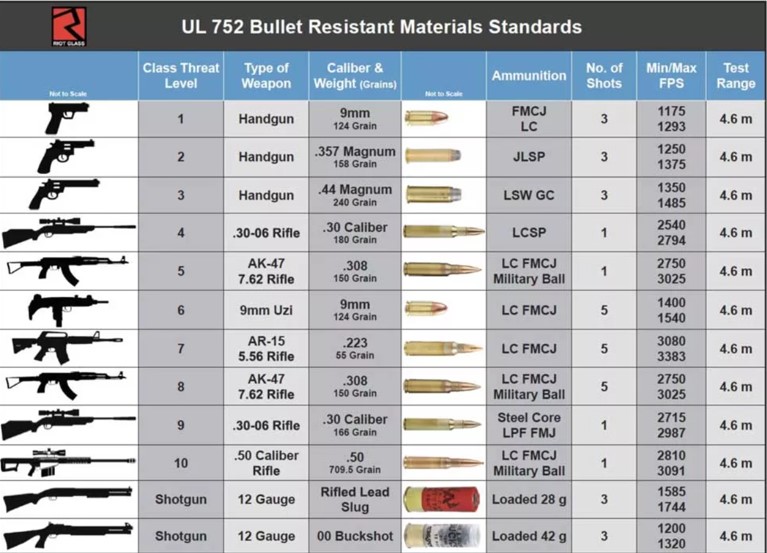 Blast-resistant windows and doors
With the ever-present threat of terrorist attacks, which could potentially include bombing attempts, blast-resistant window and door glass is becoming more and more prevalent in commercial facilities.
Blast-resistant security glazing is designed to absorb and disperse the energy from nearby blasts, thereby mitigating the risks of blast damage and glass-related injuries from flying shards of broken glass.
Security glazing for blast damage mitigation uses the GSA blast resistance standards to determine how much force from an explosion it can withstand.
Anti-graffiti coatings
Commercial buildings anywhere are often targets of vandals — it's not just building owners with properties in urban cores that have to worry about graffiti anymore, although their properties might be more at risk of civil unrest-related graffiti.
Various types of security glazing sheets are now available with special graffiti-resistant coatings, which not only protects windows and doors against graffiti, but is also resistant to scratching, gouging, and other marring.
Energy-efficient security glass
You may not think of security glass as something that improves the energy efficiency of commercial buildings, but it definitely is!
There are various ways to use different types of security glazing to reduce the carbon footprints of commercial facilities.
For example, you can retrofit security glazing over top of existing exterior glass surfaces, which is the same as adding another pane of glass, converting single-pane windows to double-pane, or double-pane windows to triple-pane.
Adding an extra pane of glass to windows doubles the amount of surface that hot and cold air has to pass through to escape through a window, as well as adds an insulating air space.
This helps reduce solar heat gain and keep cool air from AC in during warm weather, and helps prevent warm air from heating systems from escaping in cold weather.
Some types of security glazing are also available with low-emissivity (low-e) coatings, which make window glass even more energy-efficient.
Sound mitigating glass
Just as adding a sheet of security glazing to windows can make them more energy efficient, the extra pane of glass also helps mitigate noise.
Security glazing can help mitigate various types of noise pollution, such as that from traffic, planes flying overhead, construction, and more, making indoor spaces quieter and more comfortable to work and be in.
Storm damage impact windows
For commercial building owners and architects in hurricane zones or regions prone to heavy windstorms, storm damage mitigation barriers are a concern.
Traditional storm damage mitigation barriers, including storm panels, hurricane shutters, and plywood board-ups can work to protect businesses against storm damage, but they may prevent window shopping and make businesses look closed.
Bars, scissor gates, and shutters provide a visual deterrent that can often discourage break-ins, but some cities, landlords, and specialty brands do not want such products visible in the storefront. Riot Glass is an excellent alternative, providing a virtually invisible barrier to entry.
Our clients in Florida and other southeastern states are increasingly using ArmorPlast® impact windows to protect commercial buildings against storm damage.
These impact windows have been tested and certified to Miami-Dade hurricane missile testing standards, the most rigorous storm damage barrier testing standards in the country.
Riot Glass, LLC offers a full range of security glazing products that can perform in any capacity related to the latest commercial security glass trends we discussed above.
We can work with commercial building owners, architects, and glass contractors anywhere in the country to implement our fenestration security solutions.
Contact us today for a free consultation!