From retail stores to office buildings, glass is an essential part of almost all modern architecture.
And, with more and more new types of glass and glazing technology available, it's more important than ever for architects to stay on top of the latest architectural glass trends.
Continuing education topics for architects often cover glass topics like energy-efficient glass, acoustic glass, and decorative glass, but what about security glass?
Architectural security glazing is an area that many architects overlook when pursuing continuing education programs related to architectural glass, but it's something that all architects should include as part of their ongoing education.
Continuing Education for Architects: Potential Security Glass Topics To Study
Personal protective barriers
Forced entry-resistant security glazing
Bullet-resistant glazing materials
Storm damage mitigation barriers
Fenestration security for specific types of commercial facilities
Personal protective barriers
Since the COVID-19 pandemic drastically changed the way we interact in public spaces, personal protective barriers have become more of a need in many commercial facilities.
These are clear protective barriers that help prevent the spread of germs, particularly those that cause respiratory illnesses.
Personal protective barriers can be used wherever there are close interactions between workers and customers, such as at cash counters and reception desks.
These types of barriers can incorporate elements like pass-through windows or drawers and speakers to facilitate person-to-person transactions, while still protecting everyone from viruses.
During the pandemic, many commercial building owners and business operators chose to put temporary transaction windows and other personal protective barriers in place.
However, with the ongoing presence of COVID-19 and concerns about the possibility of future pandemics, many people are choosing to install permanent personal protective barriers to mitigate these risks.
As such, architects should learn about the different options available when it comes to personal protective barriers, including the materials they can be made from and the transaction window features they can include.
Architects should also learn how they can be included in both new construction and retrofitted in existing buildings.
Forced entry-resistant security glazing
Forced entry and burglary are often the biggest concern business owners, especially high-end and specialty retailers, have.
A series of high-profile smash-and-grab thefts, as well as fairly recent instances of civil unrest resulting in rioting and looting, have caused many business owners to take a closer look at their security measures, particularly in terms of glass protection.
Standard glass and tempered safety glass are simply not viable for security, and traditional solutions like bars and grates are unsightly and just don't work for many types of businesses.
Because of this, business owners are looking for new ways to reinforce glass doors, storefront windows, and display cases.
In order to meet these needs, studying new types of forced entry-resistant security glazing should be part of any continuing education program for architects.
Continuing education for architects focused on forced entry prevention might go over case studies of how different types of forced entry and burglary go down, and how security glass could have played a role in preventing them.
By understanding what solutions are out there and how they can best be used, architects can play a big role in helping harden business security against forced entry, burglary, smash-and-grab theft, and rioting and looting.
Bullet-resistant glazing materials
The next level up from forced entry-resistant security glazing is bullet-resistant security glazing.
Any commercial architect should also study ballistic-grade glazing materials and products as part of their continuing education, in order to be able to provide ballistic protection when needed.
Bullet-resistant glazing isn't just for armored cars and government facilities anymore — ballistic-grade materials are being used more than ever in various types of commercial buildings, from corporate offices to schools.
Bullet-resistant security glazing can be used for executive protection, active threat mitigation, or to provide the highest level of forced entry protection and access denial.
Examples of ballistic-grade glazing materials that architects should know about are polycarbonate security glazing and glass-clad polycarbonate glazing, such as those available from Riot Glass.
It's also important for architects to understand the UL 752 ballistic resistance rating system, which indicates how many bullets a certain type of glazing (or any other bullet-resistant material) can stop from specific types of firearms.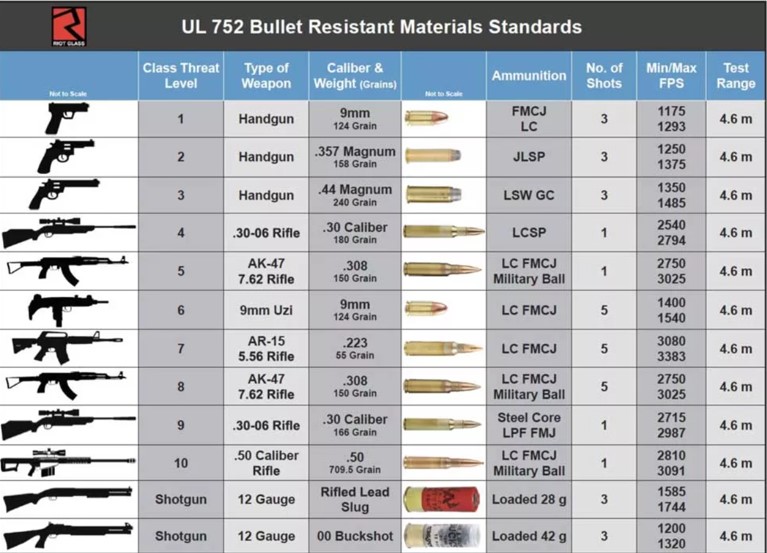 Storm damage mitigation barriers
For those who design buildings in hurricane zones or other storm-prone areas, studying storm damage mitigation barriers is an indispensable part of continuing education for architects.
Traditional storm damage mitigation barriers that architects might resort to in these areas include various styles of hurricane shutters, such as roll-down shutters and accordion-style shutters.
With the advent of new security glazing technology, such as highly storm damage-resistant polycarbonate impact windows, there are other options besides traditional storm damage mitigation barriers.
You can now achieve the same level, or an even higher level, of hurricane missile resistance (resistance to flying storm debris) with certain types of security glazing.
Studying the different types of security glazing that can be used for storm damage mitigation is absolutely essential for any architect working in Florida or any of the southeastern United States, and it can't hurt for architects elsewhere, either!
Fenestration security for specific types of commercial facilities
Lastly, beyond studying the different types of security glass and glazing out there to mitigate against different types of threats, architects pursuing continuing education can also study fenestration security for specific commercial applications.
For example, you might choose to study fenestration security as it applies to:
Schools and other educational facilities
Retail stores, especially luxury retailers
Churches, mosques, synagogues, temples, and other religious buildings
Government facilities
Detention centers and correctional facilities
Hospitals and psychiatric wards
Office buildings and high rises
Wrapping Up
At Riot Glass, LLC, we are committed to providing the ultimate fenestration security for all types of commercial properties.
Our Riot Glass® security glazing products use 100% unique formulations of polycarbonates, acrylics, other plastics, and security laminates that outperform and outlast all similar security glazing products on the market.
Using retrofittable framing adapters, Riot Glass can often be retrofitted on top of, behind, or in place of existing glass surfaces. This makes it an incredibly cost-effective security glazing solution.
We love working with architects to implement the best fenestration security solutions for their clients, whether it be for new construction or a retrofit project.
We can also help get you up to speed on products and solutions in any of the areas discussed above.
Contact us today for a free consultation.