As security threats and criminals evolve in the modern world, so too has the need increased for better security solutions to mitigate the range of threats faced by businesses and commercial properties.
Access control systems are one such solution commonly implemented to protect commercial establishments against unauthorized entry.
But, while access control is an important part of any comprehensive commercial security system, commercial access control systems are lacking in one key area: physically protecting vulnerable glass doors and windows against forced entry.
That's why business proprietors and commercial building owners should prioritize Riot Glass® over traditional commercial access control systems to reinforce vulnerable potential entry points and help ensure the safety and security of people and property inside.
Why Should Riot Glass® Be a Priority Over Commercial Access Control Systems?
1. Glass Doors and Windows Are Extremely Vulnerable To Forced Entry
In almost all instances of forced entry, unprotected glass doors or windows are the points of entry, as they are often the weakest links in a building's security system.
Traditional access control systems focus on keeping doors locked, managing entry permissions, and monitoring access, but they don't fully prevent forced entry or protect against physical threats.
Determined intruders can easily exploit vulnerable glass doors and windows to bypass access control points.
By law, it must be possible to open commercial entryway doors from the inside for emergency egress in case of emergencies like fires, so all a criminal has to do is smash a nearby window and pass their arm through to gain unauthorized entry to a business or facility.
Or, in the case of large glass storefront windows and all-glass doors, all an intruder has to do is smash the pane of glass and step right through.
This means that even if their doors are locked from the outside and protected by commercial access control systems, many businesses and other commercial properties are extremely vulnerable to forced entry, burglary, and rioting and looting.
2. Riot Glass® Reinforces Vulnerable Glass Doors and Windows
So, now you know that traditional access control systems can be rendered useless if an intruder forcibly breaks through a door or window to gain entry.
However, Riot Glass® serves as an additional layer of virtually unbreakable protection that significantly reduces the likelihood of a successful forced entry attempt.
Using specific formulations of polycarbonates, acrylics, and other plastics, Riot Glass® security glazing is engineered to withstand high-force impacts and resist penetration by would-be intruders.
If a criminal attempts to break a window or door protected by Riot Glass® using a hammer, crowbar, or other common burglary tool, the unique composition and thermoplastic interlayer within Riot Glass® prevents the glass from shattering and maintains the barrier's integrity.
This not only buys valuable time for security personnel and law enforcement to respond, but also discourages criminals from continuing with their forced entry attempts, protecting the property and people inside a facility from harm and theft.
3. Riot Glass® Enhances Physical Protection Without Compromising Aesthetics
Windows are an important architectural component of many businesses and facilities, providing natural light and visibility that create an open, inviting, and comfortable working or shopping environment.
Traditional physical forced entry prevention solutions, like bars, grates, and grilles, largely negate these benefits, detracting from the curb appeal of properties and making them look fortified.
Such traditional measures simply aren't an option for certain types of facilities, especially high-end retail stores, glass office buildings, and other types of businesses.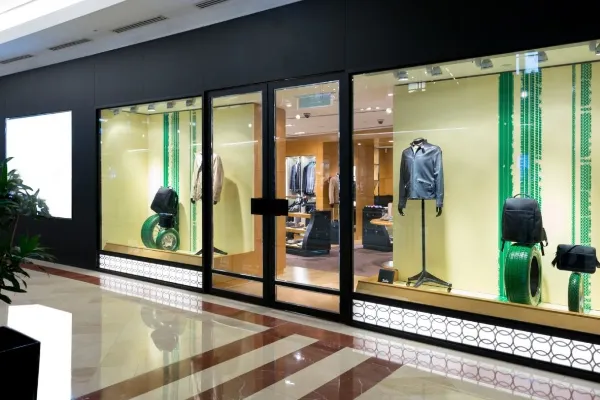 Riot Glass® is the ideal alternative to window bars and other traditional forced entry prevention solutions because it doesn't noticeably alter the outward appearance of doors and windows.
In fact, if you don't know it's there, chances are you would think that Riot Glass® is just like any other type of commercial window glass.
4. Riot Glass® Protects Against a Full Range of Security Threats
Commercial access control systems protect against a very specific threat: unauthorized entry through specific doors.
On the other hand, Riot Glass® protects commercial properties against a wide variety of security threats, including:
Forced entry
Burglary
Smash-and-grab theft
Vandalism
Rioting and looting
Active threats
Explosions
Storm damage
In recent years, instances of rioting and civil unrest have highlighted the need for businesses to be prepared for such unpredictable events.
Riot Glass® proves invaluable in these situations, as it offers 24/7 protection against projectiles, rocks, and other objects commonly used by rioters to vandalize and gain access to commercial properties.
Similarly, high-profile smash-and-grab thefts have shown that most businesses are not prepared for large, coordinated retail thefts, and need more than the average glass protection for storefront windows, doors, and display cases.
For commercial properties located in hurricane or heavy storm zones, Riot Glass® can also act as an alternative to board ups and traditional storm damage mitigation barriers, like hurricane shutters and storm panels.
While these are just a few of the major use cases for Riot Glass®, they go to show that it provides much more comprehensive protection than any commercial access control system ever can.
5. Riot Glass® Is a Cost-Effective, Long-Term Solution
While it's true that installing Riot Glass® comes at a higher upfront cost compared to commercial access control systems, it is important to consider the long-term benefits.
By preventing forced entry and property damage and theft, Riot Glass® can save businesses significant amounts of money in repairs, insurance claims, and lost revenue due to downtime or loss of merchandise.
Additionally, the durability and longevity of Riot Glass® ensure that it remains effective over an extended period, reducing the need for frequent replacements or repairs.
Lastly, Riot Glass® is more affordable than other comparable security glazing solutions, since it can usually be retrofitted on top of existing glass surfaces, without the need to remove the glass or upgrade the framing system.
This cost-effectiveness, combined with the enhanced security that mitigates the risk of financial loss associated with forced entry, makes Riot Glass® a wise investment for commercial property owners seeking a reliable and long-lasting physical security solution.
Wrapping Up
In today's ever-evolving security landscape, it is of the utmost importance for businesses to prioritize the physical protection of their premises alongside access control systems.
By installing Riot Glass®, businesses can reinforce vulnerable potential entry points, creating access denial barriers to keep the bad guys out and protect glass against a wide variety of impacts and safety and security threats.
Contact us today for a free consultation!